1 Year Warranty Until 11.17.23
Length – 21′ 4″, Width – 11′ 3″, Height – 11′
Weight – 15,750 lbs. [filled w/ fuel and liquids] (Dependent on engine options)
[4] Rice tires, 23.1-26, 12 ply [68″ DIA x 24″ wide]
4-wheel steering
High-torque planetary wheel drives – Freewheel capable
Double-acting steering cylinders
18″ White Iron Bazooka Submersible Pump
Cummins B6.7L Tier 4 Final Engine
150-gallon steel fuel tank with an innovative baffle system
[2] 20″ diameter, Hardox 500 TUF steel, 5-bladed ragless propellers
Custom-made prop bearing housing with hardened, nickel-plated 2.25″ DIA shaft
Gear oil bath with a quadruple lip seal arrangement
Dual hydrostat Linde piston pumps
Innovative hydraulic reservoir
8 fully proportional hydraulic cylinders
Integrated GPS technology
TEC-10 engine controller
Integrated shutdown safety and protective features
6″ pipe to high-abrasion 5″ vacuum hose, connected by an HSG coupler
*This is NOT for Sale, Only Listed with all of our equipment*
Pictures of Unit, & New as of 11.17.23
Interested In This Equipment?
Know Somebody that Might?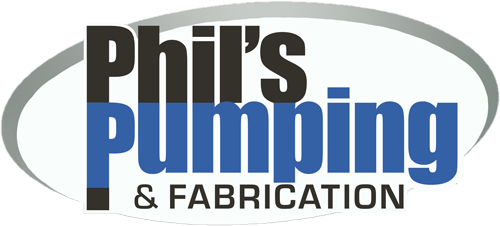 PhilsPumpingAndFab.com · (920) 849-2458
1 Year Warranty Until 11.17.23
Length – 21′ 4″, Width – 11′ 3″, Height – 11′
Weight – 15,750 lbs. [filled w/ fuel and liquids] (Dependent on engine options)
[4] Rice tires, 23.1-26, 12 ply [68″ DIA x 24″ wide]
4-wheel steering
High-torque planetary wheel drives – Freewheel capable
Double-acting steering cylinders
18″ White Iron Bazooka Submersible Pump
Cummins B6.7L Tier 4 Final Engine
150-gallon steel fuel tank with an innovative baffle system
[2] 20″ diameter, Hardox 500 TUF steel, 5-bladed ragless propellers
Custom-made prop bearing housing with hardened, nickel-plated 2.25″ DIA shaft
Gear oil bath with a quadruple lip seal arrangement
Dual hydrostat Linde piston pumps
Innovative hydraulic reservoir
8 fully proportional hydraulic cylinders
Integrated GPS technology
TEC-10 engine controller
Integrated shutdown safety and protective features
6″ pipe to high-abrasion 5″ vacuum hose, connected by an HSG coupler
*This is NOT for Sale, Only Listed with all of our equipment*
Pictures of Unit, & New as of 11.17.23